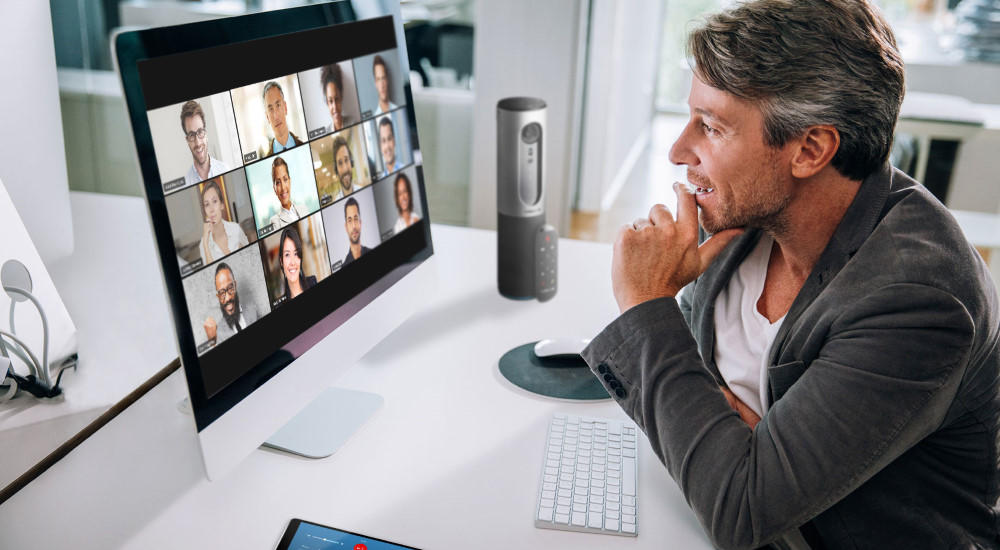 01 May

Four Tips to Step Up Your Teleconferencing Game

With over 88% of organizations encouraging or requiring work from home, workers around the world are swapping their office time for virtual time, which means days are spent on teleconferences. And we've all been on that teleconference call: the dog barking in the background, keyboards clicking in constant percussion, or the one person breathing directly into the microphone without saying anything at all.
Effective teleconferencing practice is necessary for productive meetings to ensure your voice is heard and you can clearly hear what others have to say. To achieve clarity in your communications, a few steps of preparation and planning are needed.
Teleconferencing isn't necessarily an art form, but there are some quick strategies that can make it better for everyone involved. Effective teleconferencing practice is necessary for productive meetings to ensure your voice is heard and you can clearly hear what others have to say. To achieve clarity in your communications, a few steps of preparation and planning are needed.
Master the practice of active muting
So you've joined a call…did you mute yourself? A good practice—especially when joining a call where you will be primarily listening—is to start by selecting the mute button on your conferencing platform, your phone, or your computer. Muting not only reduces unwanted noise but is the most effective method for reducing feedback. Even if you intend to occasionally chime in or talk on a call, it's best to get into the habit of muting and unmuting your microphone. Active muting is the simplest way to make sure external noise from your environment, your keyboard, and yourself don't make their way into the call. This may be difficult for those who are on the go, navigating multiple applications or are otherwise proud owners of a computer that lacks a keyboard-level mute button. But fear not – see below!
Is it time for an external microphone or headset?
If you normally take calls while jotting notes or working with your hands, often the best solution is to switch to a headset. However, not all microphones are created equal, and we recommend you check specific features to find the one most suitable for your purposes. Whether you choose the classic earbuds with the wired microphone or something with more enhancements, using an external microphone helps to separate noise from keyboards or the world around you from the call at hand. Note that the earbuds with the dangly cord are designed to work best when the microphone rests on your lapel. Bring it any closer to your mouth and the signal will often distort and could render your speech unintelligible.
Some over-ear headsets, like noise-canceling headphones, offer microphones located at the ear. Depending on the quality, headsets like these may capture too much ambient sound when using the microphone. In general with selecting headsets, features like microphone wind/environmental noise cancellation and notifications to users of potentially harmful listening levels should be considered.
Hearing conservation is a large concern with headphone use and one that has been captured in the WHO Noise Guidelines for the European Region (2018) which recognizes prolonged exposure to high levels of sound through personal listening devices (PLDs) is a leading contributor to hearing loss over time. A good rule of thumb is if you listen through a headset at 80% of the maximum volume, do so for no more than 90 minutes per day and adjust accordingly. With this in mind, noise cancellation headphones have other benefits to consider in lieu of less-than-perfect microphone performance.
Consider when is best to use noise-canceling headsets
Noise-canceling headphones can offer respite, peace, and quiet from the surrounding environment. They make excellent travel companions, are perfect for tuning out during times of concentration, and come in a number of comfortable designs. Noise-canceling headsets offer better solutions for hearing health conservation by removing excess exterior sounds that would otherwise cause a listener to increase audio volume. However, a noise-canceling headset is not always the ideal solution for conferencing. With a few exceptions, many modern options of noise-canceling headphones with microphones do a poor job of reducing exterior ambient noise to the mic, making your voice harder to hear on the receiving end. Additionally, taking phone calls using noise-canceling headphones may result in you speaking louder than normal.
Find your best tech buddy
Locate someone on your team or at your workplace who can help you troubleshoot teleconferencing issues. When you add new devices to your arsenal, use different conferencing programs, or are working in new locations with different background noise levels it's best practice to test them first. Making this a habit in your teleconferencing routine will reduce those moments where, five minutes before (or into) a call, you're not hearing others or are inaudible yourself.
The great thing about lists like these is that they're just one snapshot of a series of potentially effective solutions. I'll turn it over to you to contribute your thoughts on what works best and if you think that there are areas where organizations or technology can help in bringing us all together through trying times: contact@workwelldaily.com