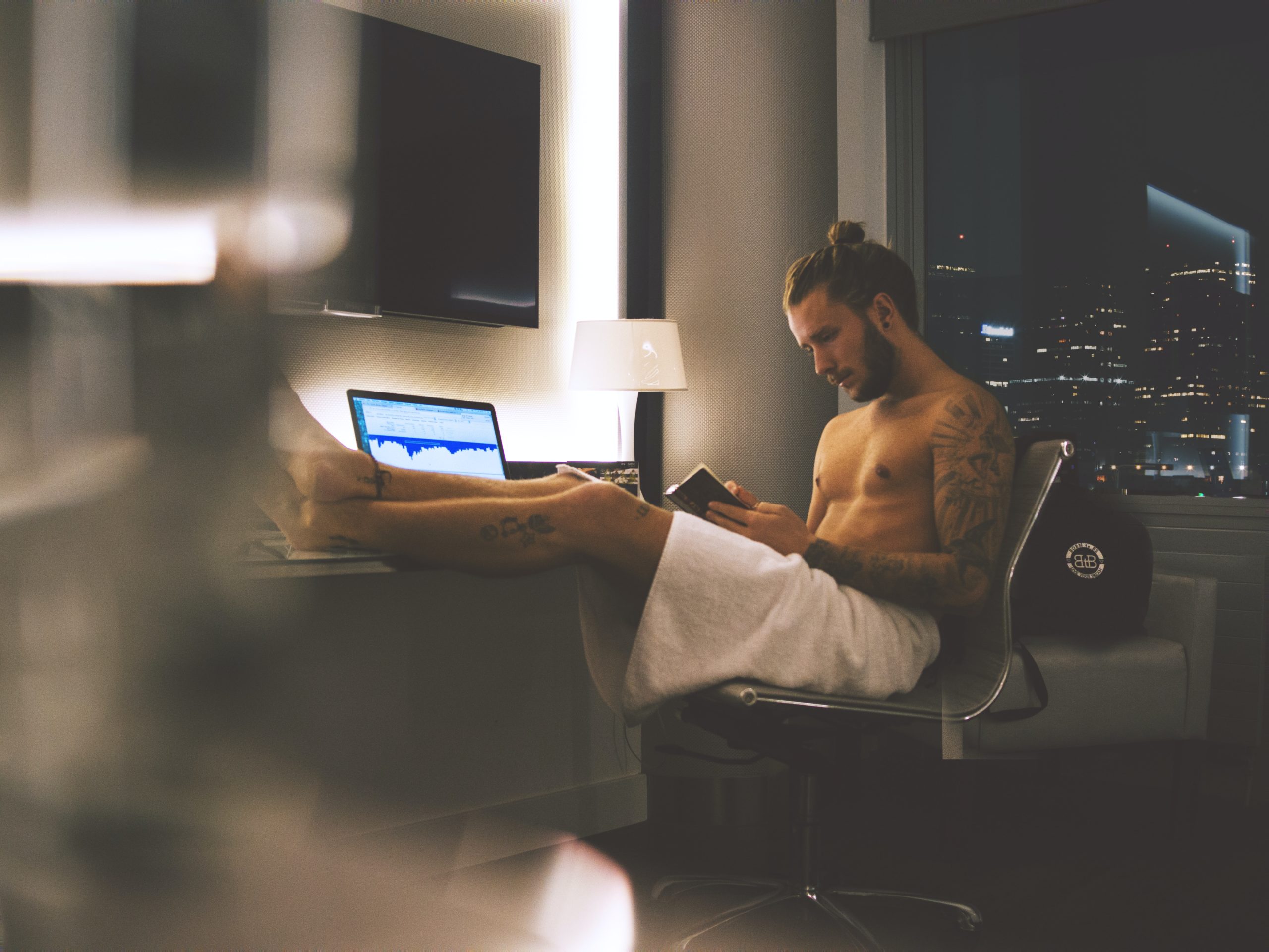 16 Sep

7 Easy Tips to Stay Healthy During Business Travel

Late-night drinks with clients. Caloric airport food. Weeks of no exercise. While it may be easy to overlook the poor decisions we tend to make when traveling for business, in time, they will catch up with us. But instead of issuing warnings about how such choices can negatively impact your health, let's focus on the positive: the healthy actions you can take so there are no future regrets.
You can take it with you
We know business comes first in terms of what items make the luggage cut, but be sure to leave room for essentials that do the body good. To avoid fueling up on candy bars and packaged muffins at the airport, stash healthier snacks, including fruits that don't bruise easily, raw veggies, protein bars, healthy breakfast cookies and nuts. TRX or resistance bands don't take up much room at all in a suitcase. Neither do a sleep mask and earplugs­. And whatever you do, don't forget the hand sanitizer
The airport is the new gym
For those who don't mind receiving stares from other people, here are clever ideas on how to get a good workout at the airport. For a less conspicuous way to burn calories, you can take a few laps around the terminal while making your preflight phone calls. Or if you happen to be in an airport with a yoga studio or gym, use it to your body's advantage. You'll be grateful to have worked those muscles when you've been strapped in a seat for five hours with three more still to go.
Airport exercise in disguise
If you're pressed for time, skip the step above but still sneak in some exercise by using the power of your own two legs instead of giving that job to the moving walkway. And whenever you can, take the stairs instead of the elevators/escalators. Lugging a jam-packed carry-on up a couple of flights? Yeah, we think that will get your heart rate up a bit. But you always could buy a Fitbit to find out.
All calories count
You may be away from home but don't slip in that vacation mindset where you convince yourself that all those high-calorie, fatty foods you're consuming won't affect your waistline or mood. Instead, make mindful decisions about what you're eating and use an app like MyFitnessPal to give you a much-needed reality check on how bad some of those restaurant and airport food selections you're considering are.
Finding a nice gym
Many business travelers select their accommodation based on their proximity to where their meetings will be held. But another factor that should be high on the list (besides if it's in policy, of course) is if it has an inviting gym where you'll be motivated to work out.  What if the gym's not exactly up to your needs? If the fitness center doesn't look as nice as those photos you saw on the hotel's website. But that's no excuse to skip exercise. You can have a complete workout in the guest room, doing pushups, sit-ups, squats, lunges and dips. To get your heart pumping, head out for a run, speed walk or bike ride. This way, you also can tour a bit of the city.
Remember to stay hydrated
Alcohol may be what you're tempted to reach for, but water should be your go-to beverage during your travels. It's a powerful elixir that can reduce the effects of jet lag, boost your immune system, curb your appetite and help restore dehydrated skin from the dry air in the plane. By the way, you can bring a bottle of water through airport security if it's totally frozen solid when presented for screening. But a simpler (and greener) solution is taking an empty stainless steel water bottle and loading up at the fountain when on the other side.
A moment of Zen
After a long day of travel and a dinner with clients, you deserve a good night's sleep. But we don't need to tell you how difficult that can be in a new time zone. So, do whatever it takes to put yourself in the right mindset. Power down all your devices. Take a hot shower. Shake off those travel kinks with deep-breathing exercises. Drink a cup of chamomile tea (a few packets easily can fit in your carry-on). And if all that doesn't do the trick and you spend an hour tossing and turning in bed, may we suggest heading to the hotel gym to burn off that pent-up energy?